Last year, Ivan Despi, owner & creative director for Acid House, was invited by Kult3D (www.kult.com.sg) & Arcade (www.arcade.agency) to be one of 6 artists for a global campaign for McDonald's & Coke. Now, almost a year later, and after rolling out in Korea, Japan, Australia, Taiwan, HK (and soon in South Africa & middle eastern countries) the campaign was finally launched in the Philippines last Oct 26.
'The Timeless Shape of Happiness' is a series of 6 illustrations from 6 different artists celebrating the evolution of the iconic Coke glass throughout 100 years of the brand.
Ivan Despi's illustration, titled "The Fiesta to End All Fiestas" is a combination of 2D & 3D work, and is inspired by the colorful Pahiyas festival & Pinoy culture in general.
The piece was also chosen over the other 5 artworks as the main visual of the whole campaign, and client requested for a 15s spot that was also executed by Ivan Despi with his animation studio Acid House.
You can check out the 15s animated spot here:
The illustration draws inspiration from the annual Pahiyas festival of Quezon province, Philippines. It's a form of thanksgiving to celebrate the harvest season. The local farmers display their bountiful produce (from rice, fruits, vegetables to goats & pigs) in decorative fashion on the facade of their houses.
They also have these chandelier-type lanterns called
arangya
, which could be made up of anything, from the edible rice wafer called
kiping
, to fruits & vegetables.

BIG IDEA
What if, in the heat of the Pahiyas festivities, the decorated houses themselves suddenly came alive and joined in the celebration?
The elements around the Coke glass are inspired by the local Pinoy culture: Pahiyas houses, arangya, saranggola, abaniko, bulu. Even the crops / produce are based off the popular folk song 'Bahay Kubo'.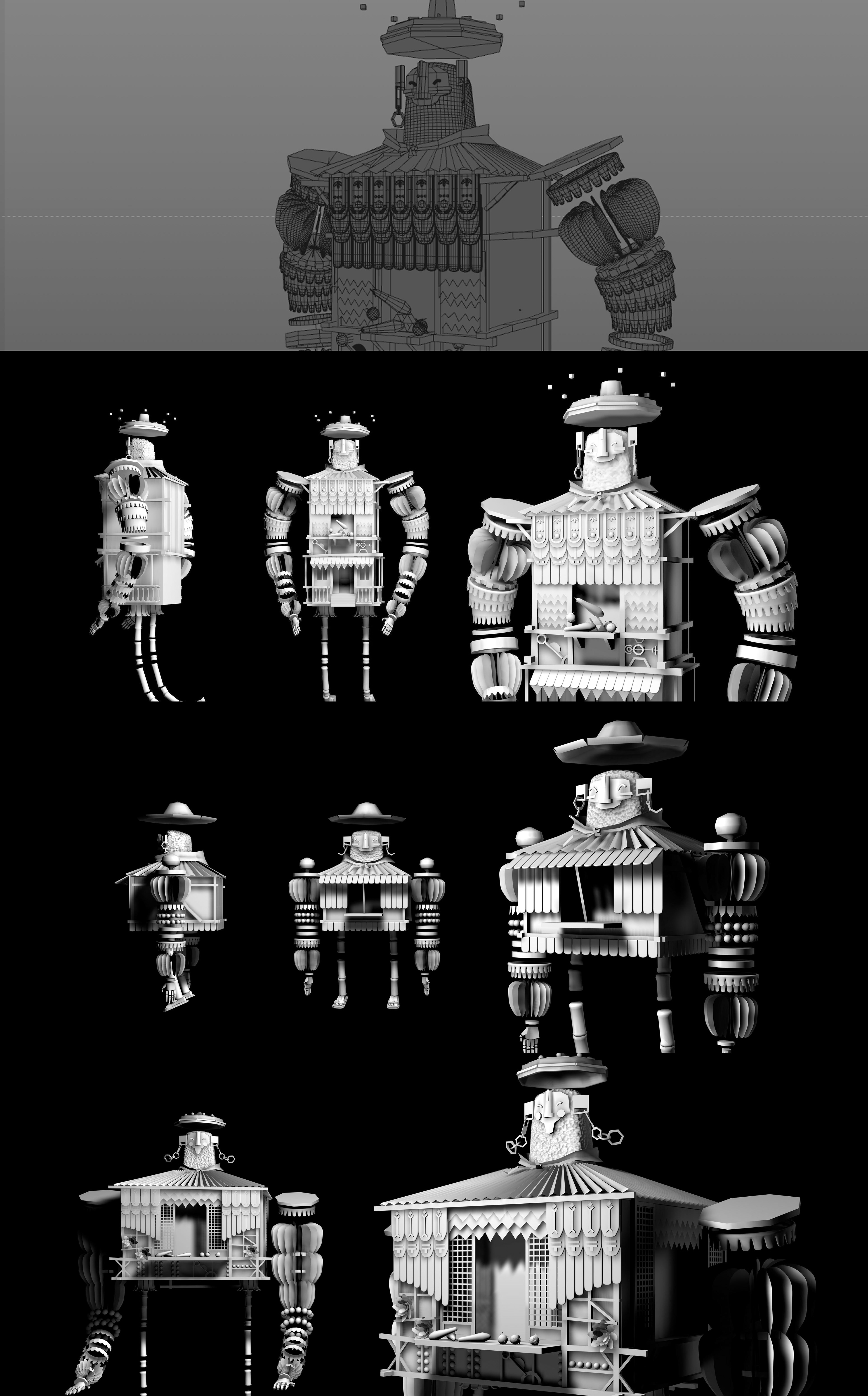 Here are some of the paraphernalia that was executed for the global campaign (c/o agency Arcade Singapore)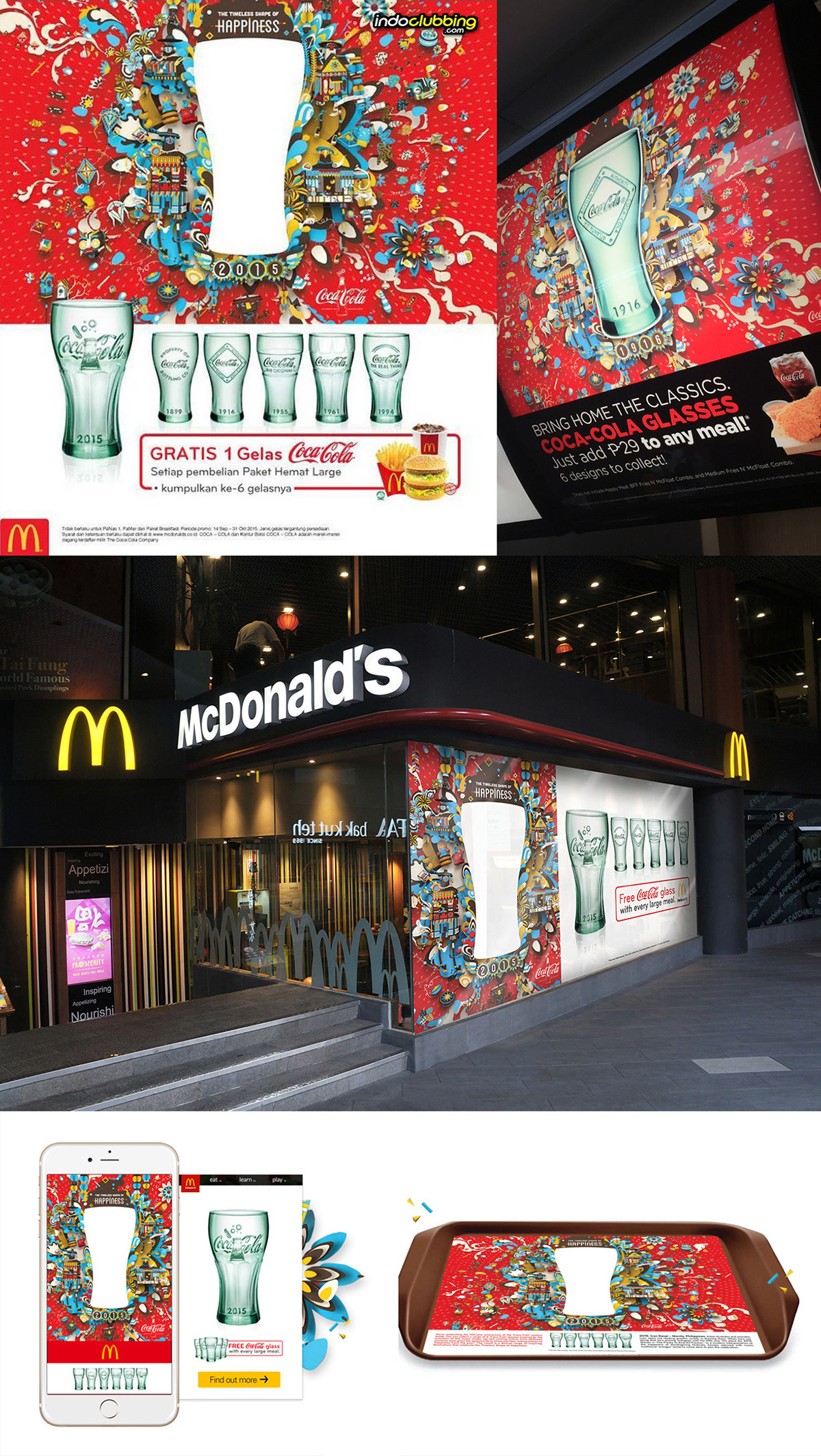 ANIMATION
The client chose the illustration (over 5 others) to be the main visual for the whole 'Timeless Shape of Happiness' campaign.
This also meant that we had to develop a 15-second spot using elements from the illustration. Since the 3D models were
already rigged and ready to be animated, we had a grand time making the illustration come alive. Through animation
we were also able to show how the giants transform from the Pahiyas houses.
Here's the 15s spot once again:
Client: Coca Cola x McDonald's
Agency: Arcade Singapore
Executive Creative Director: Gary Tranter
Creative Directors: Greg Rawson, Ross Fowler
Art Directors: Ferooze Tabrani, Chia Shan Yu, Andy Lim 
Production House: The Acid House
Director: Ivan Despi
Design, 3D modeling & animation: Ivan Despi
2D cel FX: Gerone Perez & Jo Gregorio
Edit & final composite: Ivan Despi
Super thanks also to Tanya Wilson & everyone at Kult3D :D