Mentos Rainbow was about to launch in the Vietnamese market and they partnered up with Dentsu Redder VN to create a campaign around it, using none other than the legendary nyan cat meme. The brand was serious enough that they actually secured the usage license (!)
​​​​​​​
We were tasked to develop a key visual featuring 3 nyan cats sporting the new flavors of the Mentos Rainbow: watermelon, strawberry and lemon. So the first order of business was to modify the look of the nyan cat's body to the shape of a Mentos candy, and create the specific flavor variants.
As with the nature of the meme legend, each nyan cat has a colored trail, and the agency wanted a specific kid character riding this trail.
Here are the early sketches that we made while trying to define these 3 characters. Aside from merely infusing the colorway of the fruit flavor to each of them, we also wanted to created distinction in terms of attitude and characterization between the Mentos trio.
Composing the layout relied much on creating a dynamic angle to the rainbow trails that will be coming off from the nyan cats. We had to find the balance of showing the adorable meme cats while also putting focus on the brand product held by the kids.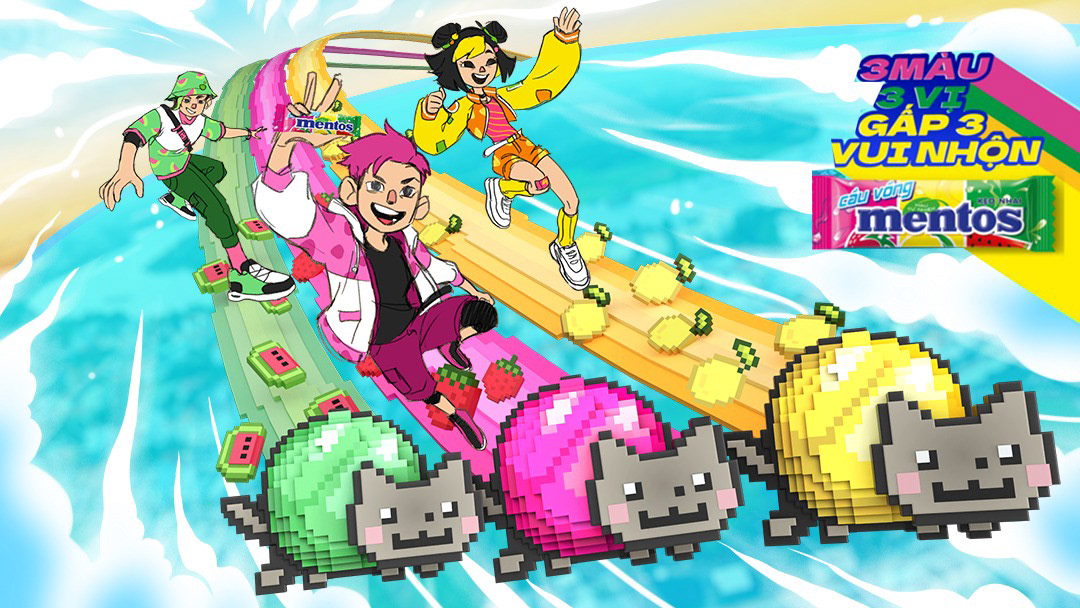 Design director: Ivan Despi
Character designer: Cherylee Sng
3D modeler and sculptor: Rod Tinapay, Jeff Hazel Ombrete
3D compositing artist: Jeff Hazel Ombrete